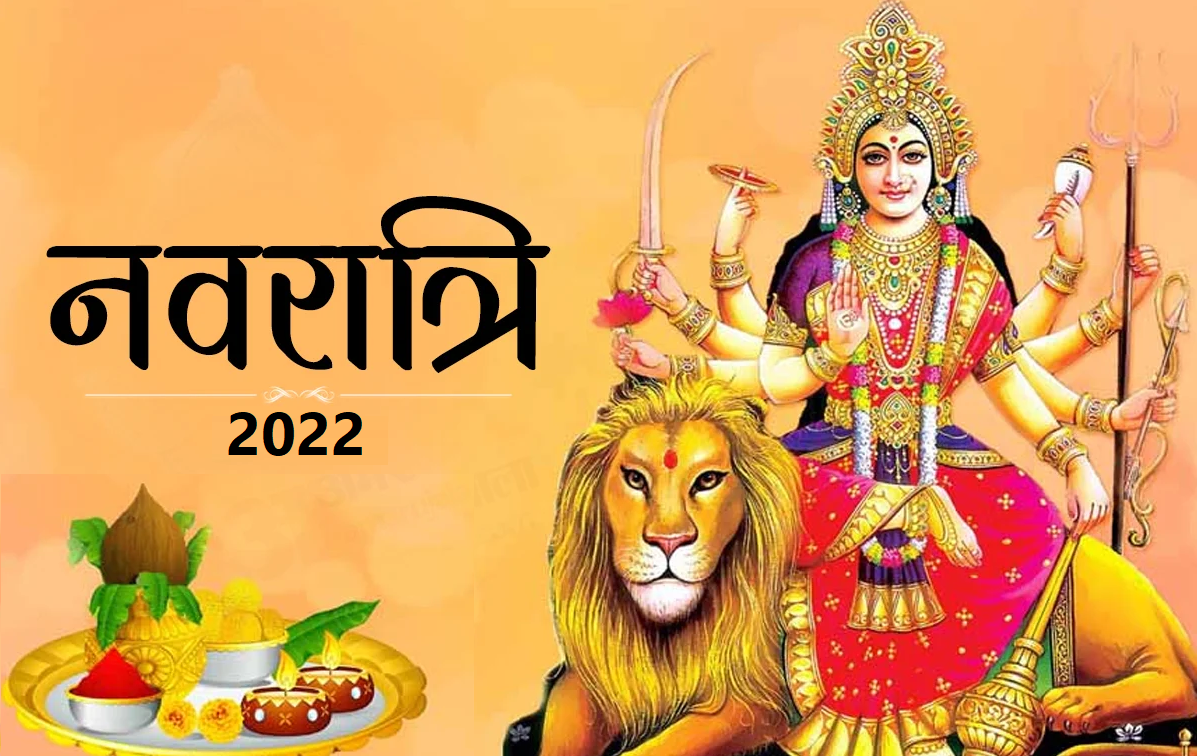 Navratri, which literally means nine nights, is a celebration dedicated to the Hindu goddess Durga. The feminine aspects of God take the form of Devi and Shakti, meaning strength. During the nine-day festival of Navratri, Goddess Durga is worshipped in nine different forms. It is celebrated across India with great fervour as one of the most significant Hindu holidays.
शरद नवरात्रि कब है 2023?
Navratri 2023 in India will begin on
Sunday, 15 October 2023
and ends on
Tuesday, 24 October 2023
Navratri is celebrated on four occasions a year, but only two of them are widely observed – Chaitra Navratri and Sharad Navratri. This festival is observed differently in each part of the country. Despite worshipping the same deity, different rituals are performed.
Navratri means "nine nights" in Sanskrit. Fasting is observed and special prayers are offered to Maa Durga's Nine Forms on these nine nights. It is believed that the goddess is a manifestation of Goddess Parvati. As Devi Durga, she destroyed Mahishasura using her avatar.
Nine different forms of Maa Durga are worshipped with nine different prasad or bhogs. The nine forms of Goddess Durga and the bhog offered to them are shown below.
चैत्र नवरात्र कब है 2023?
Chaitra Navratri 2023 beings on
Wednesday, 22 March 2023
and ends on
Friday, 31 March 2023
नवरात्रि में माँ दुर्गा के नौ रूपों की पूजा का विधान
● दिन 1 – माँ शैलपुत्री पूजा – यह देवी दुर्गा के नौ रूपों में से प्रथम रूप है। मां शैलपुत्री चंद्रमा को दर्शाती हैं और इनकी पूजा से चंद्रमा से संबंधित दोष समाप्त हो जाते हैं।
● दिन 2 – माँ ब्रह्मचारिणी पूजा – ज्योतिषीय मान्यता के अनुसार देवी ब्रह्मचारिणी मंगल ग्रह को नियंत्रित करती हैं। देवी की पूजा से मंगल ग्रह के बुरे प्रभाव कम होते हैं।
● दिन 3 – माँ चंद्रघंटा पूजा – देवी चंद्रघण्टा शुक्र ग्रह को नियंत्रित करती हैं। देवी की पूजा से शुक्र ग्रह के बुरे प्रभाव कम होते हैं।
● दिन 4 – माँ कूष्मांडा पूजा – माँ कूष्माण्डा सूर्य का मार्गदर्शन करती हैं अतः इनकी पूजा से सूर्य के कुप्रभावों से बचा जा सकता है।
● दिन 5 – माँ स्कंदमाता पूजा – देवी स्कंदमाता बुध ग्रह को नियंत्रित करती हैं। देवी की पूजा से बुध ग्रह के बुरे प्रभाव कम होते हैं।
● दिन 6 – माँ कात्यायनी पूजा – देवी कात्यायनी बृहस्पति ग्रह को नियंत्रित करती हैं। देवी की पूजा से बृहस्पति के बुरे प्रभाव कम होते हैं।
● दिन 7 – माँ कालरात्रि पूजा – देवी कालरात्रि शनि ग्रह को नियंत्रित करती हैं। देवी की पूजा से शनि के बुरे प्रभाव कम होते हैं।
● दिन 8 – माँ महागौरी पूजा – देवी महागौरी राहु ग्रह को नियंत्रित करती हैं। देवी की पूजा से राहु के बुरे प्रभाव कम होते हैं।
● दिन 9 – माँ सिद्धिदात्री पूजा – देवी सिद्धिदात्री केतु ग्रह को नियंत्रित करती हैं। देवी की पूजा से केतु के बुरे प्रभाव कम होते हैं।
1. Goddess Shailputri
Goddess Durga was first manifested as Goddess Shailputri. She holds a Trishul in one hand and a lotus in the other and rides a bull named Nandi. Goddess Parvati was born as the daughter of Himalaya, and since Shail means mountain in Sanskrit, she is known as Shailputri.
Her name is Sati, and she is often referred to as the Goddess of Nature. In response to her father's insult for not being allowed to attend Shiva's yajna, Sati threw herself into the sacred fire. The goddess Parvati was later reborn as the daughter of the Himalayas.
What to offer: Goddess Shailputri is offered pure ghee by devotees on her feet. Devotees are believed to gain health and freedom from disease by offering pure ghee.
Read Also: Why Is Chaitra Navratri Celebrated?
2. Goddess Brahmacharini
On the second day of Navratri, the goddess Brahmacharini is devoted. She walks barefoot, holding a Rudraksha mala in one hand and a sacred Kamandalu in the other. Goddess Parvati symbolises the deep meditation in which she engaged to please Lord Shiva when she was in the meditative form of this goddess.
Most commonly, she is worshipped as Parvati, the consort of Shiva who found her destiny in being the wife of Lord Shiva. While she struggled at first, she eventually succeeded, because Lord Shiva is known for meditation. As a result of her devotion, Shiva made her his wife and gave her the name Brahmacharini. Her worship is associated with knowledge and determination during Navratri celebrations.
What to offer: Goddess Brahmacharini is offered sugar for the longevity of the family members.
3. Goddess Chandraghanta
On the third day of Navratri, Goddess Chandraghanta is worshipped. Chandraghanta is a fierce 10-armed goddess with a crescent moon on her forehead, hence her name. She rides a tiger to destroy all evil and wickedness. In addition, she represents peace and serenity. But, like Durga, she has the power to destroy demons if provoked to maintain peace within the world.
What to offer: Kheer is a favourite of the ferocious goddess. It is said that she drives away all pain.
4. Goddess Kushmanda
The fourth day of Navratri is Chaturthi, the festival of Devi Kushmanda. The name Kushmanda means creator of the universe and is derived from three words – 'Ku' (little), 'Ushma' (warmth or energy), and 'Amanda' (egg).
It is said that Kushmanda created the cosmic egg with her smile as one of the creation kathas (stories) within Hinduism. It is said that her brightness gives the Sun its light.
What to offer: Those who follow Maa Kushmanda offer Malpua in order to improve their intellect and ability to make decisions.
5. Goddess Skandmata
Skandmata, also known as Panchami, is the goddess worshipped on the fifth day. Skandmata is a four-armed deity who carries a lotus in two of her arms along with a sacred bell and a kamandalu. Skanda's mother also carries Kartikay on her lap, which is why she is also called Skanda.
The lotus on which she sits represents her mother. Her son Skanda is depicted on her lap when she is depicted as the "Goddess of Fire.". The devotees who worship her also receive his blessings.
What to offer: The goddess Skandmata loves bananas.
Further Reading: Famous Places For Celebrate Festival of Dussehra In India
6. Goddess Katyayani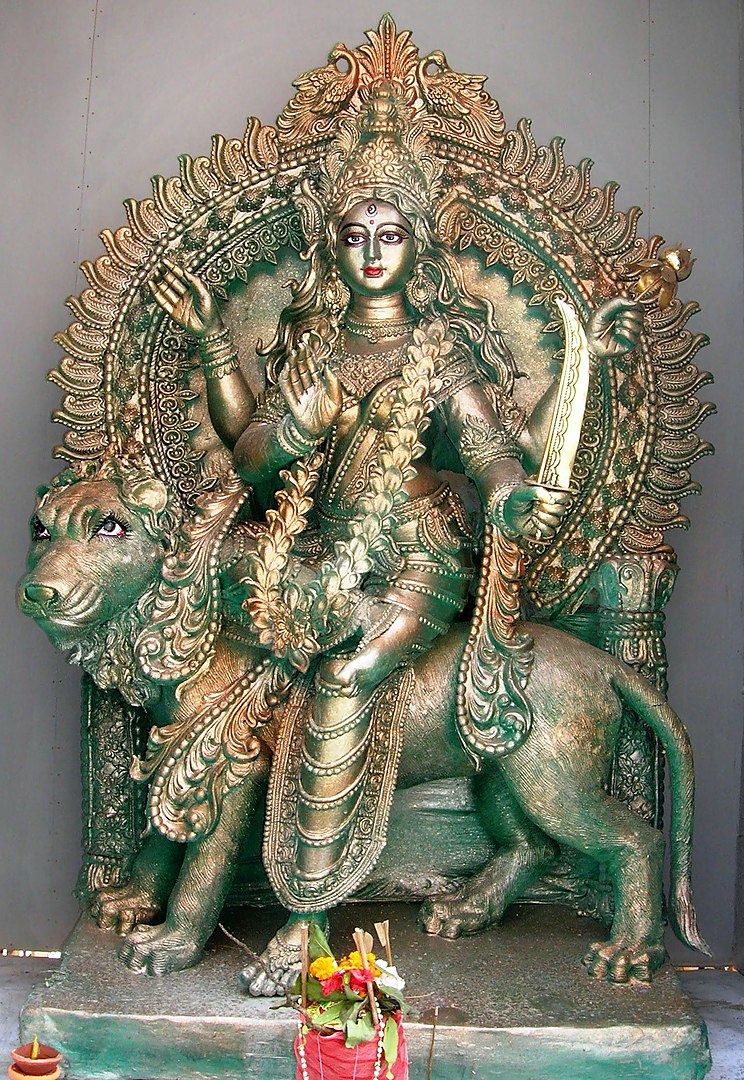 Goddess Katyayani, a manifestation of Shakti, is the subject of the sixth day of Navratri. Katyayani is also referred to as the warrior goddess and is among the most vicious forms of Goddess Parvati. She possesses four arms and carries a sword. She rides on a lion and is the daughter of Sage Katyayan.
A woman who worships her is said to be married to the man she desires. Katyayani is most famous for killing Mahishasura, the demon.
What to offer: Prasad is offered to Devi Katyayani as honey.
7. Goddess Kaalratri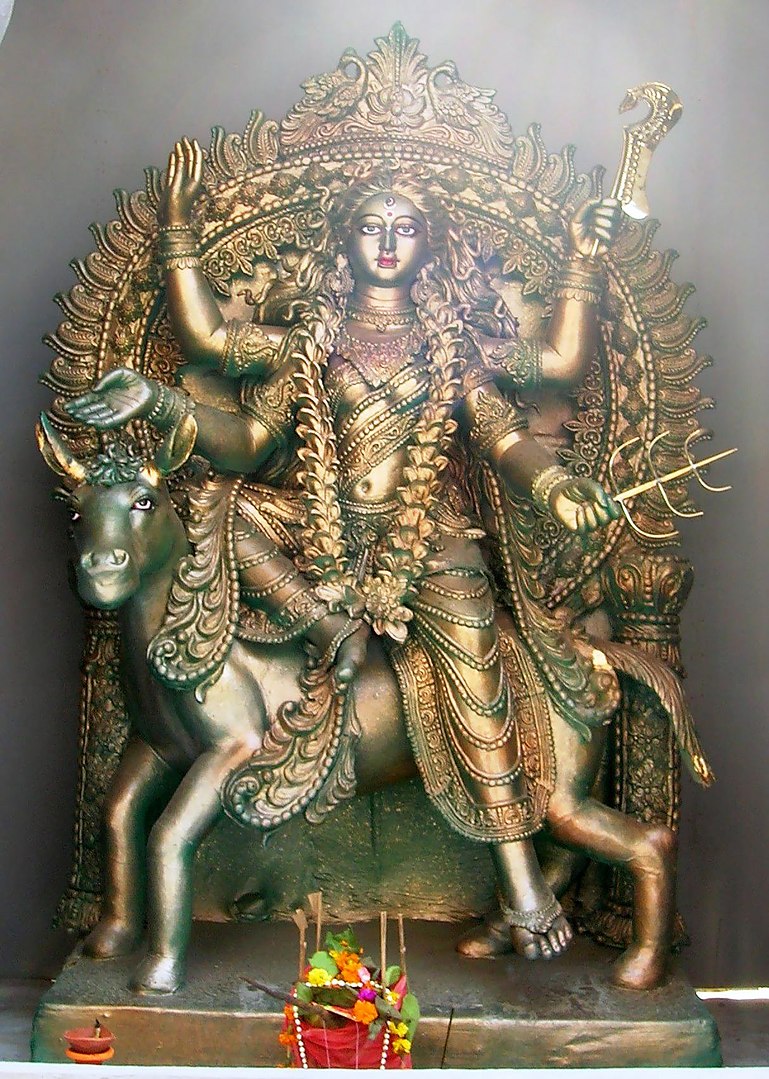 Navratri's seventh day is Saptami or the day of Goddess Kaalratri. Legend has it that she sacrificed her skin colour to kill demons by embracing a dark complexion. Her weapons include a sword, a trident, and a noose. She rides a donkey and carries a trident, sword, and noose. According to legend, she has a third eye on her forehead that holds the entire universe.
Her worship is aimed at removing ignorance and darkness from the lives of her devotees. Her worship also removes worries for many devotees. As well as destroying nature, she is also associated with the dark side of nature.
What to offer: Brought Jaggery as prasad for the relief of pain, obstacles, and bringing happiness to Devi Kaalratri.
8. Goddess Mahagauri
Mahagauri is the goddess celebrated during Durga Asthami, the eight-day period of Navratri. She rides a white elephant or a bull and has four arms. In her hands are two Trishuls and one damru. Shiva created this form of Parvati when he decided to marry Parvati and used Ganga water to cleanse her skin of dirt. Mahagauri (literally meaning white) was given her name for her fair complexion.
What to offer: Coconuts are offered to Goddess Mahagauri by devotees.
9. Goddess Siddhidatri
Goddess Siddhidhatri is honoured on the ninth and final day of Navratri. A four-armed deity seated on a lotus holds a mace, discus, a book, and a lotus in each hand. This is the perfect form of Goddess Durga. Having the power to remove ignorance, she can show her devotees how to achieve union with the divine or Brahman. Even Gods worship her for blessings because of her divinity.
What to offer: Sesame seeds are offered to Devi Siddhidatri for protection against unnatural events.
Shubh Navratri!
Chaitra Navratri Dates 2023
Date

Colour of the Day

Pooja

22 March 2023 (Wednesday) 

Grey

Ghatasthapana
Chandra Darshan
Shailputri Puja

23 March 2023 (Thursday) 

Orange

Brahmacharini Puja
Sindhara Dooj

24 March 2023 (Friday) 

White

Gauri Puja
Saubhagya Teej
Chandraghanta Puja

25 March 2023 (Saturday) 

Red

Kushmanda Puja
Lakshmi Panchami
Vinayaka Chaturthi

26 March 2023 (Sunday) 

Royal Blue

Skandamata Puja
Naag Puja
Skanda Sashti

27 March 2023 (Monday) 

Yellow

Yamuna Chhath
Katyayani Puja

28 March 2023 (Tuesday) 

Green

Maha Saptami
Kalaratri Puja

29 March 2023 (Wednesday) 

Peacock Green

Durga Ashtami
Mahagauri Puja
Annapurna Ashtami
Sandhi Puja

30 March 2023 (Thursday) 

Purple

Rama Navami

31 March 2023 (Friday) 

Navratri Parana Day

Dashmi Pooja
Navratri Parana
Sharad Navratri 2023 Calendar Date
Date

Day & Colour of the day

Pooja

15 October 2023 (Sunday) 

Pratipada, 
Yellow

Ghatasthapana
Chandra Darshan
Shailputri Puja

16 October 2023 (Monday) 

Dwitiya, 
Green

Brahmacharini Puja

17 October 2023 (Tuesday) 

Tritiya, 
Grey

Sindoor Tritiya
Chandraghanta Puja
Varad Vinayaka Chauth

18 October 2023 (Wednesday) 

Chaturthi, 
Orange

Kushmanda Puja
Upang Lalita Vrat

19 October 2023 (Thursday) 

Panchami, 
White

Skandamata Puja

20 October 2023 (Friday) 

Shashthi, 
Red

Katyayani Puja

21 October 2023 (Saturday) 

Saptami,  
Royal Blue

Saraswati Awahan
Kalaratri Puja

22 October 2023 (Sunday) 

Ashtami, 
Pink

Saraswati Puja
Durga Ashtami
Mahagauri Puja
Sandhi Puja

23 October 2023 (Monday) 

Navami, 
Purple

Maha Navami
Ayudha Puja, Navami Homa

24 October 2023 (Tuesday) 

Navami, 
Purple

Dashmi Pooja
Vijayadashami, Dussehra 2022