The Capital of the UAE, Dubai is a city full of fun and excitement. It's home to many attractions, world-famous buildings and beautiful beaches perfect for a family vacation. Many of its famous attractions are family-friendly, so you can enjoy a relaxing break with your favourite people in this wonderful city!
Family-friendly activities in Dubai, including the best places to visit, swimming pools and parks for kids, plus ideas for family days out and holidays with the kids. Let's have a look at such family-friendly places to visit in Dubai this New Year:
Best Places to Visit in Dubai With Family👇
Picnic at Dubai Beach
Celebrate the New Year with your friends and family at The Kite Beach in Dubai. Enjoy views of Burj Al Arab while relaxing on the beach and flying kites, or reserve a private cabana to enjoy the fireworks display!
Kite Beach sunset is one of the most beautiful sights you can see in Dubai. It is an ideal place for a romantic evening or just a new year picnic with friends and family. However, it is also heavily used by kite surfers who enjoy a spectacular view of the Burj Al Arab and the other tall buildings on Sheikh Zayed Road.
Dubai Shopping Festival
Add a touch of Dubai to your New Year's Eve celebrations at The Dubai Mall. With a host of entertainment, food and drink options and activities for everyone, there's no better place to be when the clock strikes midnight.
Welcome to the Dubai Shopping Festival. This year's festival offers shoppers over 400,000 square meters of retail outlets, with everything you need for a world-class experience: great deals, incredible variety and unbeatable entertainment.
Dubai Aquarium & Underwater Zoo
Visit Dubai Aquarium & Underwater Zoo this new year with your friends, kids and family. See the magic of underwater life in the Ever Wonders tour, and meet sharks and sea turtles in Shark Reef Exhibit. You've never seen a place like this. You won't believe that a place like this exists. Come experience some of the world's rarest marine life with us.  Plan an unforgettable and fun-filled day at Dubai Aquarium and Underwater Zoo, where you can explore the underwater world in a magical environment designed with your whole family in mind. A must place to visit during your Dubai city tour.
Dubai Frame
Looking forward to a great new year with your friends and family? Visit Dubai Frame to watch the ball drop live in a beautiful setting. Tweet and post your selfie to Instagram or Facebook with this easy-to-use shutter. Just snap away, without worrying about getting the perfect angle.
Suggested Read: 10 Cool Places to Celebrate New Year in Dubai
Dinner Cruise in Dubai
The New Year's Eve dinner cruise is another popular destination for couples and families.  The food and service will be superb.  Go for a dinner cruise in Dubai this new year with a 20% discount. Enjoy 2 to 3 hours of amazing views of Dubai Marina and Almas Tower with a sunset buffet and free-flowing drinks. A perfect way to celebrate the new year.
Atlantis Aquaventure Waterpark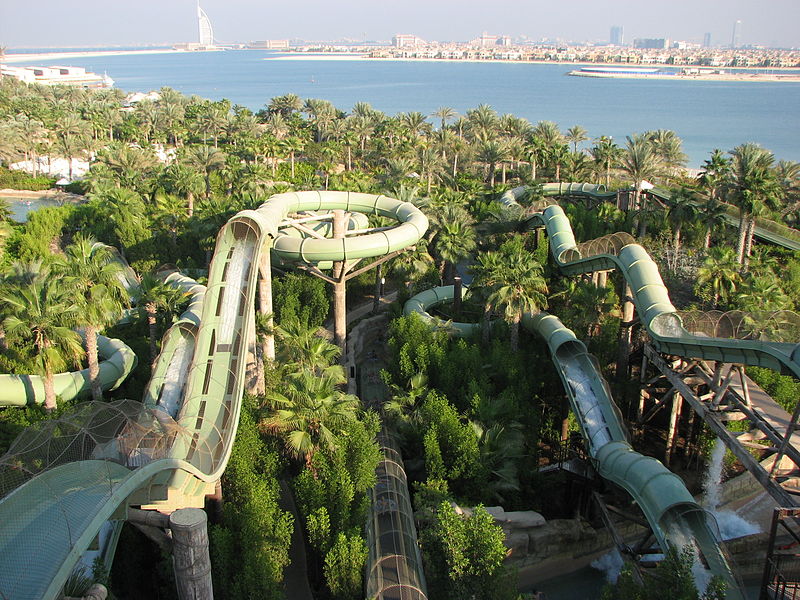 Experience the thrills of a waterpark like no other! Atlantis Aquaventure Waterpark in Dubai is the world's most authentic water park experience, featuring more than 20 world-class rides and attractions. the unique water park offers a full family adventure where you can experience almost everything thrown at you before deciding if you want to head out for some aquatic fun first or relax on dry land. With over 2,000 sqm dedicated to pool activities and the surrounding area; a wide variety of slides, whirlpools, games and activities are on offer. Enjoy scenic views from across expansive waters to distant peaks of the Arabian Sea.
Dubai Miracle Garden
Step back in time and visit Dubai Miracle Garden, the modern site that draws millions of visitors every year. You and your family can explore the features of this garden with children, enjoy heartwarming music with Floral Clock, colourful gardens in different shapes and many more.  Visit Dubai Miracle Garden to see varieties of flowers with amazing floral structures and butterflies. The garden is meticulously maintained making sure that it is a beautiful place for nature lovers who want to enjoy a serene vacation in the heart of the city.
Museum of Illusions
Want to avoid the crowd during New Year's eve? Visit the Museum of Illusions in Dubai with Kids will boggle your mind!  The museum is a 360-degree adventure that will challenge you to look around and think differently. Come experience the new world of magic during your stay in Dubai. The Museum of Illusions in Dubai is perfect for families or friends looking to get into the Halloween spirit. The displays will blow your mind, but keep your kids entertained through interactive games and an interesting story behind each tent.
Visit Dubai Dolphinarium
Dubai is a fantastic city to visit and see dolphin shows. If you want to watch out for one of the best dolphin shows during this new year then visit Dubai Dolphinarium  Watching real dolphins in Dubai waters is like nothing you have ever seen before. Enjoy one of a kind experience where you get to be the dolphin while they swim around you and perform amazing tricks, including the famous barrel roll. Dolphins are playful, gentle creatures that love belly rubs, so be sure to come prepared!
Suggested Read: The Ultimate List Of 5 Things To Do In Dubai At Night
Burj Khalifa
If you have a chance to visit the Burj Khalifa, it's definitely worth it and especially during the new year. There is so much to see from the top of the floor, like the 124th floor, and 148th floor, take selfies and much more.  This is the fact that the Burj Khalifa is the world's tallest building. It has stunning views from over 160 floors. Get close to the world's highest window and feel the thrill of riding the elevator up! Take a ride to the top and experience one of the most exciting urban destinations in the world. After reaching the top, take in the breathtaking views of Dubai City or relax on the parking deck before taking the elevator back down.