Haridwar is situated in the Garhwal region of Uttarakhand. It is also known as the 'Gateway of Gods' and 'Gateway to Char Dham' pilgrimage. It is a holy Hindu pilgrimage site in India where the river Ganga is worshipped in the morning and at night with lamps lighted on the stepped banks of river Ganga at Har Ki Pauri and rhythmic chants are performed. Haridwar is believed to be a Gateway to reach Lord Hari, an incarnation of Lord Vishnu. In ancient literature, it is referred to as Mayadwara, Gangadwara, and Moksha Dwar.
Best time to visit Haridwar
You can plan your trip to Haridwar throughout the year but the rainy season would be tricky to decide your trip as the slopes of the hills get slippery and the river Ganga is flooded with water. To be specific, November to March is the best time to visit Haridwar.
How to reach Haridwar
• Rail: The economic mode of transport to reach Haridwar is Railway. Haridwar is 225 km away from New Delhi. You will have to buy railway tickets for Haridwar railway station. Har ki Pauri is 3 km from Haridwar railway station.
• Airport: The nearest airport from Haridwar is Dehradun-Jolly Grant Airport which is 35 Km away.
• Road: The road access to Haridwar by bus from big cities makes the trip easier.
• Personal Vehicle: You can go in your vehicle as well. There are parking loans available at every nook and corner of the city.
Accommodation and Restaurant
• Accommodation: Being the major attraction of tourists and pilgrims in North India, there is no dearth of staying options. You can also pre-book hotels online. Look for the location of your stays like a river-side, hilltop, commercial area or near to railway station or bus-stop. You can opt to stay in the ashrams and Dharamshala as well. A 2-day stay is sufficient to visit important places, so plan accordingly.
• Restaurant: You can enjoy the hot and delicious street foods available. The famous restaurants here are Mohanji Puriwala, Kashyap Kachoriwala, Mathura Walo ki Pracheen Dukaan, etc.
Things to do in Haridwar
• Ganga Aarti: In the religious and holy place of Haridwar, the first thing to witness is the glittering and ever-flowing water of the river Ganga and the worshipping ceremony along the stepped banks at Har ki Pauri.
• Temple Visit: You can visit well-recognized temples like Bharata Mata Temple, Mansa Devi Temple, Chandi Devi Temple, Bharat Mata Temple, Shri Chintamani Parswanath Jain Temple, and Daksha Mahadev Temple to seek blessings and to get the wishes fulfilled. The Paanch Tirtha or Five Pilgrimage Sites are within the boundaries of Haridwar. They are Har ki Pauri, Kushwart, Kankhal, Mansa Devi, and Chandi Devi.
• Holy Bath: The pilgrims bathe here to free themselves from sins and attain salvation. Kanwar Mela is held every year during the rainy season. Haridwar is one of the four places in India that hosts Kumbh Mela every 12 years. Kumbh Mela, a huge gathering of people to bathe in the holy water of the Ganga river, will be held in Haridwar in 2022.
• Yoga and Meditation: Lakhs of pilgrims and tourists come here to awaken their spiritual power and peace of mind by attending workshops and training courses from famous and recognized ashrams like Bhaj Govindam, Sahaja Yoga Center, Divya Yog Mandir, Sapt Rishi Ashram, and Patanjali Yogpeeth.
• Ayurvedic Treatment: Patanjali Yogpeeth gives the best ayurvedic treatment for ailments and diseases. The sessions of yoga and meditation are held every day in the morning and evening. You can book rooms in the ashrams for long stays during yoga and treatment courses.
• Shopping: You can shop for clothes, handicrafts, idols, and jewellery from the markets like Moti Market, Bara Market, Jwalapur, and Kankhal. You can also reach out to The Pentagon Mall, a famous shopping destination for youth.
• Forests Safari: A jeep safari to witness the wildlife of Uttarakhand is a must. There are many choices to opt from like Chilla Range, Neel Dhara Bird Sanctuary, and Rajaji National Park.
11 Best Places to Visit near Haridwar In 2022
1. Har ki Pauri
The river Ganga enters into Indo-Gangetic plains after flowing from the Himalayan mountains in Haridwar. The worshipping ceremony of the river Ganga is held every day in the morning and evening. People in huge gatherings visit temples for offerings and prayers. Devotees bathe in the holy water of Ganga to do away with their sins. It is 3 km away from Haridwar railway station.
2. Om Ghat Bridge
The bridge emerges from the fascinating Om structure on the bank of river Ganga. The calm music sound of "Aum" feels everyone with devotion and peace. The bridge is lightened up with the lights wrapped around the railings of the bridge and a serene place to spend your evening. It is a beautiful and less crowded ghat of Haridwar. You get to experience the beautiful sight of the flowing river beneath the bridge.
3. Mansa Devi Temple
It is situated on the top of Bilwa Parvat. You can do a 3 km trek to reach the temple or take a cable car ride or climb up 1000 steps of a staircase towards the shrine. It is one of the three Siddha Peeth. As per mythology, Goddess Mansa emerged from the mind of Lord Shiva.
4. Chandi Devi Temple
It is situated on Neel Parvat near Haridwar. You are required to do a 3 km trek to reach the hill-top temple. You can also rent a cable car or ropeway called Chandi Devi Udankhatola to reach there. It is believed to be one of the three Siddha Peeth where wishes are fulfilled. As per mythology, Goddess Parvati in the form of Chandika on the Neel Parvat killed two demons Shumbh and Nishumbh.
5. Mayadevi Temple
This temple completes the trio of Siddha Peeth, the other two being Mansa Devi temple and Chandi Devi Temple. Devotees in huge numbers gather here to offer prayers and seek blessings. It is 2.5 km from Har ki Pauri, Haridwar. According to mythological belief, the navel and the heart of Goddess Sati fell here.
6. Bharat Mata Temple
It is a multi-storeyed and white-coloured temple dedicated to Mother India. Each floor of the temple is dedicated to different freedom fighters and deities. It is 7 km away from the Haridwar railway station.
7. Chilla Wildlife Sanctuary
It is 3.5 km away from Har ki Pauri, Haridwar. You can rent a jeep safari to witness the wilderness of animals and birds in this beautiful landscape. To witness the wilderness is a fascinating thing to do. It shelters a wide range of flora and fauna. It adds a thrill to your Haridwar trip.
8. Rajaji National Park
It encloses the Shivalik foothills of the Himalayas. It is known for Indian Elephants and is also a tiger reserve. Hire a jeep safari to enjoy birds and animals in their natural habitat. Rajaji National Park is named in the honor of the first governor-general of India Late Shri C. Rajagopalachari Ji. It is 10 km away from Haridwar.
9. Neel Dhara Pakshi Vihar
It is a perfect spot for bird-watchers and trekkers. It is 1.7 km from Har ki Pauri. One can go hiking to reach there. Bhimgoda Barrage is the famous landmark of this area. It is a spot for migratory birds. The Siberian Crane is one of the migratory birds that come every year in winters on the banks of the river Ganga.
10. Rishikesh
Rishikesh is located in the Himalayan foothills and is the 'Gateway to the Garhwal Himalayas'. It is also known as the 'Yoga capital of the World' as it hosts thousands of workshops in ashrams for meditation and yoga. It is the ultimate spot for adventurous activities like Rafting, bungee jumping, paragliding, trekking, giant swing, zipline tour, etc. It is 25 km away from Haridwar.
11. Dehradun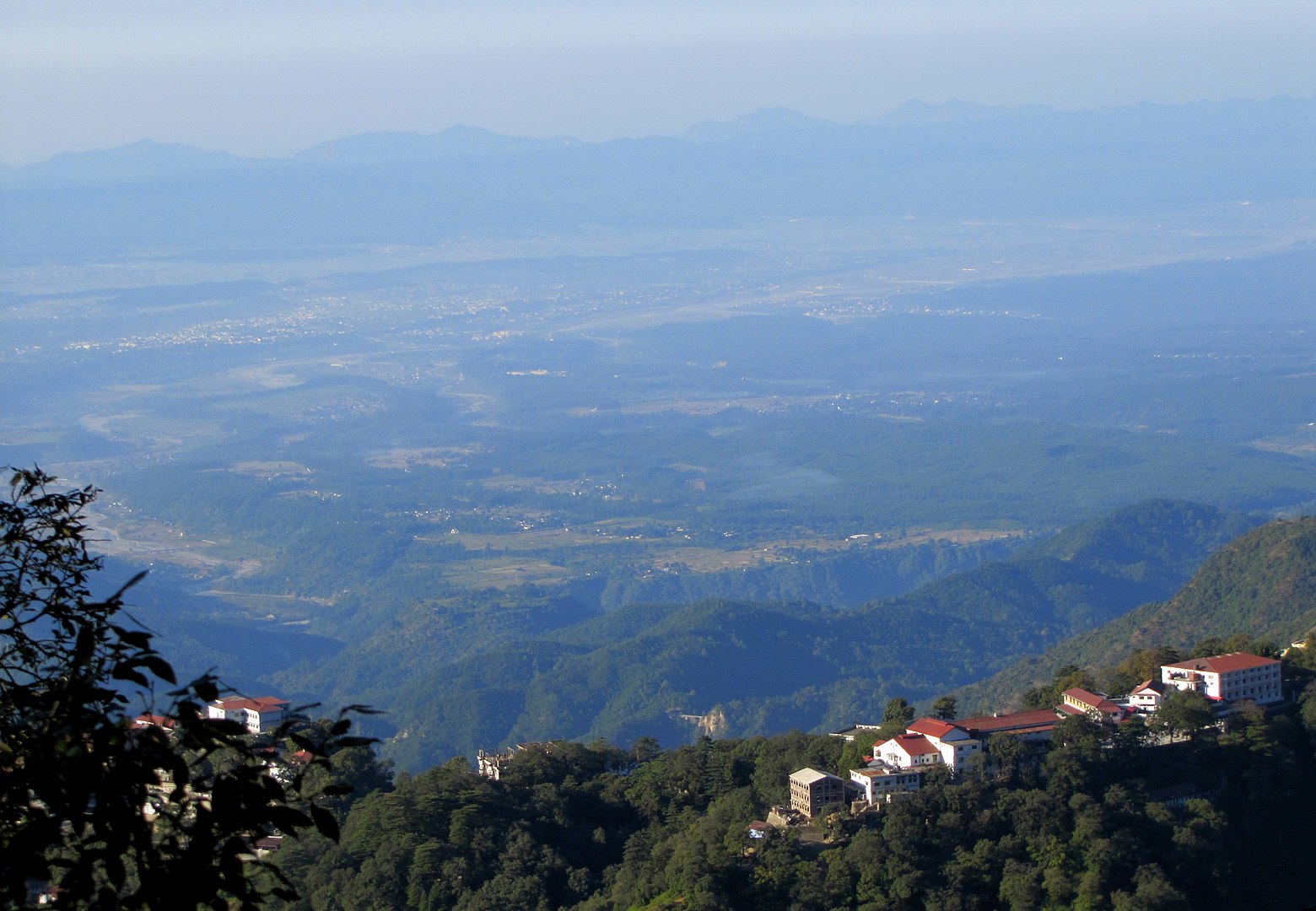 Dehradun is the capital of Uttarakhand and is the most populated city in the state. It is the Gateway to Nainital and Mussoorie. The major attractions of the city are Ghanta Ghar, Khalanga War Memorial, Mindrolling Monastery- a Tibetan Buddhist centre and Gurudwara Nanaksar. Dehradun has pleasant weather throughout the year. It is 35 km from Haridwar.