Kerala – called God's Own Country, is a paradise for backwater and beach lovers where lush greenery and rich plantation create a perfect curtain of greenery to keep you in the world of tranquillity and pleasure. Being a paradise for honeymooners and couples, the beautiful state is blessed with an abundance of rich water bodies, its unique culture and traditions, ancient architectural monuments and panoramic views that you will hardly see anywhere else. You will explore various wonderful destinations that are sure to give you immense pleasure and make your honeymoon even more special. If you have finally made the decision of exploring Kerala during your honeymoon, it is better to book the right Kerala honeymoon tour package and explore more and more destinations in your own way. Some of the most picturesque and beautiful destinations that you will see during your honeymoon are the following.
Best Honeymoon Places in Kerala in 2023
Silent Valley National Park
If you want to enjoy the perfect combination of honeymoon and wildlife tours, Silent Valley National Park is the place to make your dream come true. The beautiful tropical evergreen forest range is situated in Nilgiri Hills at Palakkad – the part of Western Ghats Regions in an area of 238 square meters and known for its rich mosaic of diverse habitats and home to rare species of birds.
Thattekkad Bird Sanctuary 
It is an ideal place to capture some of the best photographs of rare birds. The beautiful bird sanctuary is in central Kerala in a dense tropical evergreen forest range. It is located approx 60 km from Kochi City, Thattekkad is the richest bird habitat in Peninsular India.
Anamudi Tourist Place
Called the highest peak in the Western Ghats at an altitude of 8842 ft above sea level, Anamudi is a part of Eravikulum National Park about 13 km from Munnar. You will witness the beauty of rich flora and fauna and at the same time will explore a number of rare to commonly found animals like Bengal Tigers, Nilgiri Tahr and Nilgiri Marten here.
Nelliampathi Beautiful Tourist Destinations in Kerala
If Ooty is not in your reach or you haven't seen it yet, Nellampathi is the right place for you to give an extra zing to your honeymoon. You will see high altitude, lush green tea gardens, rolling hillsides and tropical forest ranges.
Related Post: Best Tourist Places to Visit in Kerala
Muzhappilangad Beach
The beautiful beach is a must-see destination in Kerala that is called the largest drive-in beach in Kerala and perhaps in India and Asia too. It is situated at a distance of approx 15 km from Kannur town where you have a 5 km ride splashing through the sea waves.
Chembra Peak
Chembra Peak is the part of majestic Western Ghats – the beautiful park – located 8 km south of Kelpetta Town. You can reach by foot from Meppady that is a small town near its valley. It is popular trekking trail in Kerala with a small heart shaped lake on the way to the peak that is quite compelling.
Banasura Sagar Dam
Banasura Sagar Dam is one of the largest dams between the hill ranges of Banasura. It is built across the tributary of Kabini River in Wayanad that is the largest earth dam in India and the second largest in Asia.
Related Post: Best Honeymoon Destinations In India
Kuruva Island or Kuruvadweep
The beautiful island is known for creating perfect settings for romance and love at the distance of 17 km from Mananthavady is very close to Wayanad District. The amazing river delta formation on the Kabini River is a part of evergreen tropical forest range. It is a heaven for nature lovers.
Cherai Beach
It is one of the most popular beaches at the north western end of Vypin Island in Ernakulam District (Cochin). Cherai Beach is dotted with many beautiful lagoons that are used for large scale organic prawn and fish cultivation. You will also see coconut trees and paddy fields add to its charm to keep you enticed and spell bound for the time to come.
Valiyaparamba Backwaters
Valiyaparamba Backwaters is a beautiful backwater stretch at Kasaragod – northern district of Kerala. They are dotted with small islands and surrounded by lush greenery counted as the best backwater destination in Kerala where you will enjoy your holidays in houseboats.
Vazhachal Waterfalls 
Standing amid the most popular waterfalls in Kerala, Vazhachal Waterfalls is very close to Athirappily Waterfalls – wonderful waterfalls on Chalakkudy River that are flowing through Thrissur District in Kerala along the edges of the Sholayar Forest Ranges. It is approx 90 km from Cochin City.
Idukki Dam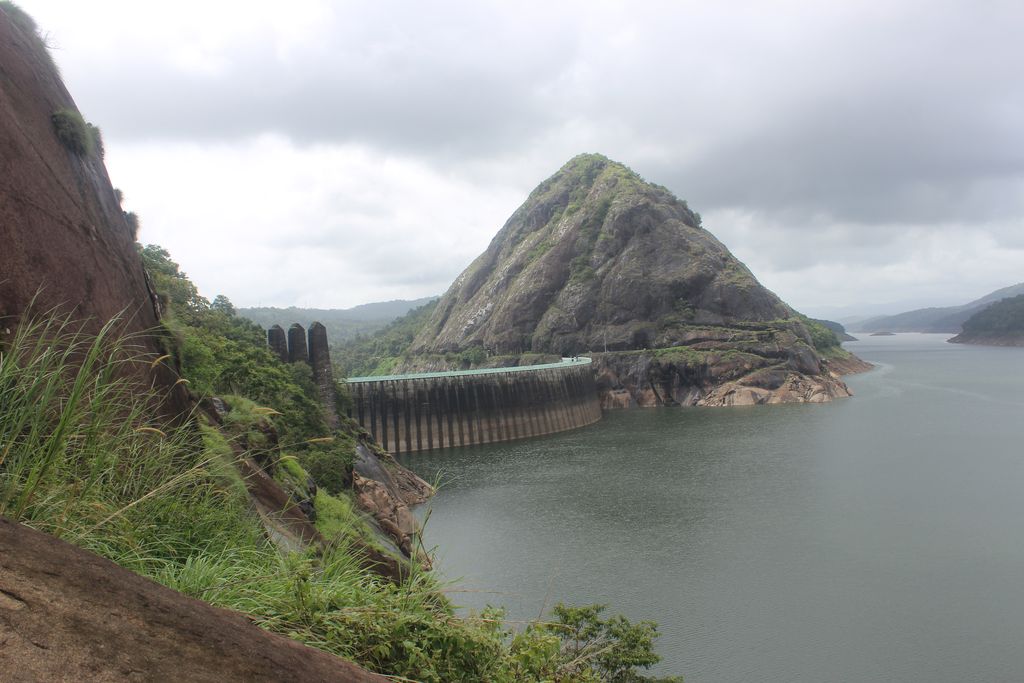 It is one of the largest dams – developed between two hills – Kuravanmala and Kurathimala – impounding the river Periyar. Idukki Dam is under the Kerala Electricity Board to give support to major hydroelectric power station. The large dam is also the biggest arch dam in Asia – located in Idukki District.
Thiruvallam Backwaters
The beautiful backwaters are very close to Trivandrum as it is the capital city of Kerala. Thiruvallom Backwater stretch is a confluence of two beautiful rivers that include Killi and Karamana. It is also famous for canoe rides and related water sports events.
Ponmudi Hill station in Kerala
Ponmudi is known as the Golden Peak and one of the main hill stations in Trivandrum district at an altitude of 1100 meter above sea level. It is the part of Western Ghats Ranges. You will see here narrow roads with some 22 hairpin curves. Green valley is also wonderful to keep you enticed and giving this place a position in the list of Kerala Honeymoon Destinations.
Related Post: Best Places to Visit in July and August in India
Ashtamudi Lake Lake in Kerala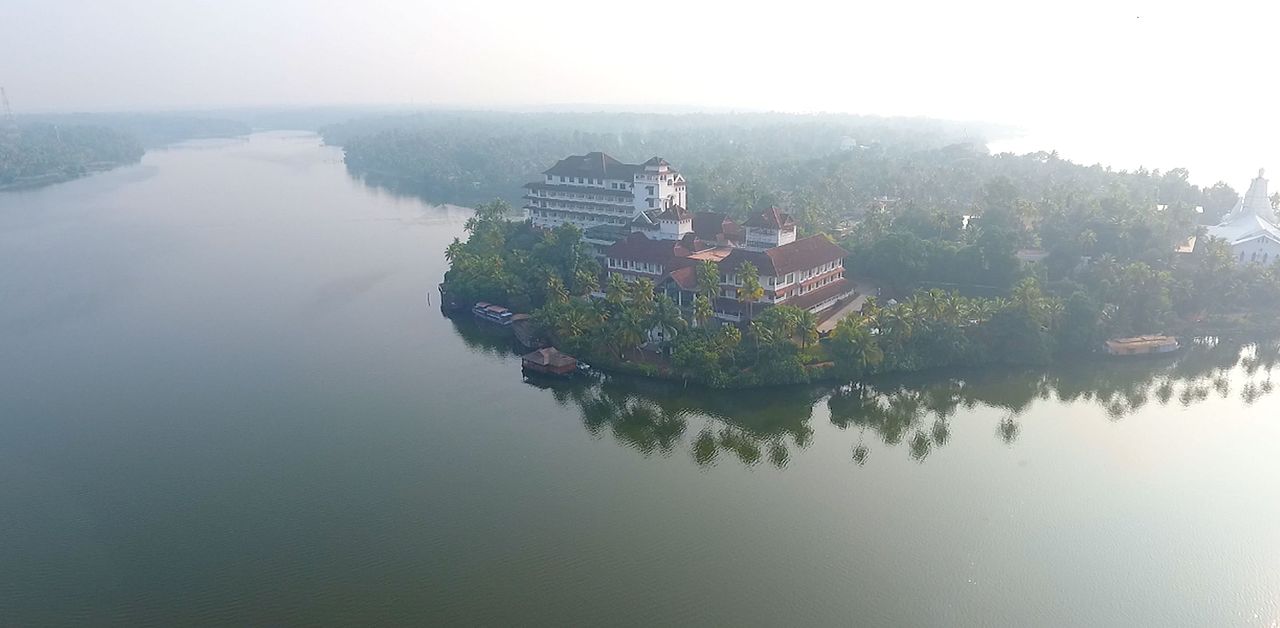 You cannot miss the beauty of Pride of tourism in Kollam District. It is a beautiful lake – the second deepest lake in Kerala after Vembanad Lake. You will see a different shape; while it is counted as the gateway of Kerala Backwaters.
Thenmala
The beautiful destination is in Kollam District near Punalur Township. The beautiful place is the main attraction that is a dam built across the Kalada River. Thenmala is transformed into an eco-tourism destination for its nature resources. There is a lot more to see that include rope bride climbing, boating, trekking, biking and mountaineering here. The Dam Reservoir is a great way to enjoy the Kallada River and surrounding greenery and mountains.
Aruvikkuzhi Waterfalls
Aruvikkuzhi Waterfalls is a pleasant and wonderful beautiful honeymoon destination in Kerala in Kottayam District. It is an idyllic location to spend a day where water cascades down from a height of 100 ft in 5 small steps – making Aruvikkuzhi – one of the beautiful attractions presented by Mother Nature.
Pookot Lake
Located near Kalpetta in Wayanad District, Pookot Lake is a picturesque freshwater lake flanked by forests on all sides. The sight of the blue water lilies on the lake is amazing and makes picturesque scenery. You can also enjoy boating facilities here and pluck the blue lilies.
Thusharagiri Waterfalls Waterfall in Kerala
You will see the splashing waterfalls with a mountain covered with snow that has been creating a feel of snow-capped hills. Thusharagiri Waterfalls is the part of the Chalippuzha River that is originated from the Western Ghats. It is ideal for trekking and rock climbing.
Beypore Beach
Beypore Beach is a beautiful and wonderful honeymoon destination in Kerala – adding a new name to the list of honeymoon destinations in Kerala to explore. Beypore Beach is an ancient port near Calicut or Kozhikode that was one of those ports in the state where trading to the Middle East used to be done. A beautiful beach and marine, as well as a 2 km long stone bridge into the sea near a beach, are worthwhile to see here. Beypore Light House is also wonderful to see.
Malampuzha Dam
Last, but not least, the beautifully designed dame near Palakkad Town is the largest reservoir and impounds the water of Malampuzha River – counted as the tributary of Bharatgappuzha. The Western Ghats in the backdrop are sure to give a dam and reservoir picturesque feel and beauty. You will also enjoy a ropeway here along with an amusement park.
There are various other wonderful destinations that are sure to keep you enticed and spellbound for the time to come. You will also see some ancient temples, churches and architectural wonders. Don't miss to enjoy the way of rejuvenating your mind and body in world-class spa and yoga retreats.
Best Time To Visit Kerala For Honeymoon
Kerala, known as "God's Own Country," is a mesmerizing destination that offers couples a perfect blend of natural beauty, romantic ambiance, and cultural experiences. Planning a honeymoon in Kerala requires considering the best time to visit, ensuring that you make the most of your special getaway. In this article, we will explore the best time to visit Kerala for a honeymoon, taking into account weather conditions, tourist activities, and overall experiences.
Weather Considerations
Kerala experiences a tropical climate throughout the year, characterized by hot and humid conditions. The state has two primary seasons: the monsoon season and the dry season. Each season offers unique experiences, but for a honeymoon, it is essential to consider pleasant weather and comfortable conditions.
Best Time: October to March
The period from October to March is considered the best time to visit Kerala for a honeymoon. During these months, Kerala enjoys a pleasant and comfortable climate, with temperatures ranging from 23°C to 32°C (73°F to 90°F). The weather is relatively dry, and the humidity levels are lower compared to other times of the year. This makes it perfect for exploring the stunning landscapes, indulging in outdoor activities, and enjoying romantic moments together.
Tourist Activities
Another important factor to consider when planning a honeymoon in Kerala is the availability of tourist activities and attractions. Kerala offers a plethora of experiences that cater to different interests and preferences. Whether you and your partner enjoy beach relaxation, wildlife adventures, or cultural immersion, choosing the right time can enhance your overall honeymoon experience.
Beaches and Backwaters: November to February
If you dream of spending romantic moments on Kerala's beautiful beaches or cruising along the serene backwaters, the period from November to February is ideal. During this time, the weather is pleasant, and the water bodies are calm, providing an enchanting setting for a romantic escape. You can enjoy leisurely walks on the sandy beaches, engage in water sports, or embark on a memorable houseboat ride along the backwaters.
Hill Stations: September to May
Kerala is renowned for its breathtaking hill stations like Munnar, Wayanad, and Thekkady. These hill stations offer a cool and refreshing retreat from the summer heat. The period from September to May is perfect for exploring these scenic hill stations, as the weather is pleasant and the landscapes are adorned with lush greenery. Enjoy the charm of mist-covered mountains, tea plantations, and cascading waterfalls as you embark on memorable hikes or simply savor the tranquility of these picturesque locations.
Conclusion
Choosing the best time to visit Kerala for your honeymoon can greatly enhance your experience and create lasting memories. The period from October to March, characterized by pleasant weather, is highly recommended. However, keep in mind that Kerala's beauty can be enjoyed throughout the year, and each season has its own charm. Consider your preferences, interests, and the specific activities you wish to indulge in when finalizing your travel dates. With its natural beauty, cultural richness, and romantic ambiance, Kerala is undoubtedly a paradise for honeymooners, providing an unforgettable start to your journey of love.
For this, all, what is more, important than anything else is proper tour planning and selection of the right Kerala honeymoon packages you can call +91-9315080445 for the right way of making your dream come true. Reach the right and reliable travel agency and you will surely get the best options to have more fun and pleasure of life during your honeymoon in Kerala – the backwater paradise in India presenting you the virgin beauty of the Arabian Sea.
FAQs Honeymoon in Kerala
Is Kerala good for a honeymoon?
Yes, Kerala is a popular destination for honeymooners. Its serene backwaters, lush green landscapes, beautiful beaches, and romantic houseboat stays make it an ideal choice for a romantic getaway.
Why is Kerala best for a honeymoon?
Kerala offers a perfect blend of natural beauty, tranquility, and romantic experiences. From mesmerizing backwaters to picturesque hill stations, cultural richness, and Ayurvedic spa retreats, Kerala provides an enchanting setting for couples to celebrate their love and create unforgettable memories.
Is Munnar a good honeymoon spot?
Yes, Munnar is a popular honeymoon spot in Kerala. With its breathtaking landscapes, tea gardens, waterfalls, and pleasant climate, Munnar offers a romantic ambiance and numerous activities for couples to enjoy together.
Which is better, Wayanad or Munnar, for a honeymoon?
Both Wayanad and Munnar have their own unique charm and attractions. Wayanad is known for its lush green landscapes, wildlife sanctuaries, and serene ambiance, while Munnar offers stunning hill views, tea plantations, and romantic experiences. It ultimately depends on your preferences as a couple.
Which month is the best for a Kerala honeymoon?
The best time for a Kerala honeymoon is during the months of October to March when the weather is pleasant and suitable for sightseeing and outdoor activities. However, Kerala's beauty can be enjoyed throughout the year, and each season has its own charm.
When do couples usually go for a honeymoon?
Couples usually go for their honeymoon immediately after their wedding ceremony. It is a special time for newlyweds to celebrate their marriage and spend quality time together in a romantic setting.
How long does a honeymoon usually last?
The duration of a honeymoon can vary based on personal preferences and constraints. Typically, honeymoons last anywhere from a few days to a couple of weeks, allowing couples to relax, explore, and create cherished memories together.
Which time is not recommended to visit Kerala?
The monsoon season, which is usually from June to August, is not considered the best time to visit Kerala for tourism purposes. The heavy rainfall during this period may limit outdoor activities and sightseeing experiences.