Centrally located in the beautiful royal state of Rajasthan, Jaipur is one of the most beautiful largest cities in India holding the title of Capital City of Rajasthan. Evoking the royal family (that once ruled the region), Jaipur is most popularly called as the Pink City for its trademark building colour. At the centre of the stately street grid, you will see the opulent, collonaded City Palace Complex – full of gardens, courtyards and museums that are that are the part of its royal residence. The beautiful city is also emerging good popularity as an industrial hub for having a number of big brands in its industrial area. Mansarovar Industrial area is considered to be one of the largest industrial areas in Asia. It is the land of palaces, forts, lakes, Maharajas, alluring architecture, Rajput Culture, Glorious past and lifestyle in which you will see the touch of royal life.
What is the Best Time to Visit Jaipur?
Best time to visit Jaipur or to book your Jaipur tour packages is from October to March. Weather conditions are in tourism favour and providing you cool climate and pleasant weather to enjoy day trip.
Jaipur also creates the most famous Golden Triangle Tour that covers the three main historical cities of Delhi, Agra and Jaipur. There is a lot more to explore in Jaipur during your honeymoon, family trip or golden triangle tour. Some of the most famous and wonderful tourist destinations are the following:
Amer Fort – The Most Spectacular Architectural Wonder in Jaipur
Beautiful Amber Fort or Amer Fort is the live evidence of a royal lifestyle that you can see here. It has also witnessed the presence of various landmark Bollywood movies like Bajirao Mastani. The amazing for is known for its endearing mirror work; while evening light and the sound show makes its history live. Don't forget to enjoy elephant ride uphill to the fort entrance and Amber by Night allows you to see the amazing lit chocks and mahals.
Entry is not free as you will have to pay Rs 200. Students have to pay Rs 100. For Indian tourists or locals, the entry fee is Rs 25 for adults and Rs 10 for students. Fort remains open from 9 am to 4.30 am; while the light and sound show starts from 7 PM to 9 PM.
Hawa Mahal – The Palace of the Winds
Hawa Mahal or the Palace of Winds is one of the best places to see in Jaipur that provides a spectacular view of the City below. You will see panoramic views of the palace and the shimmering city to add something special in your memories.
Jaigarh Fort – A Must See Fort in Rajasthan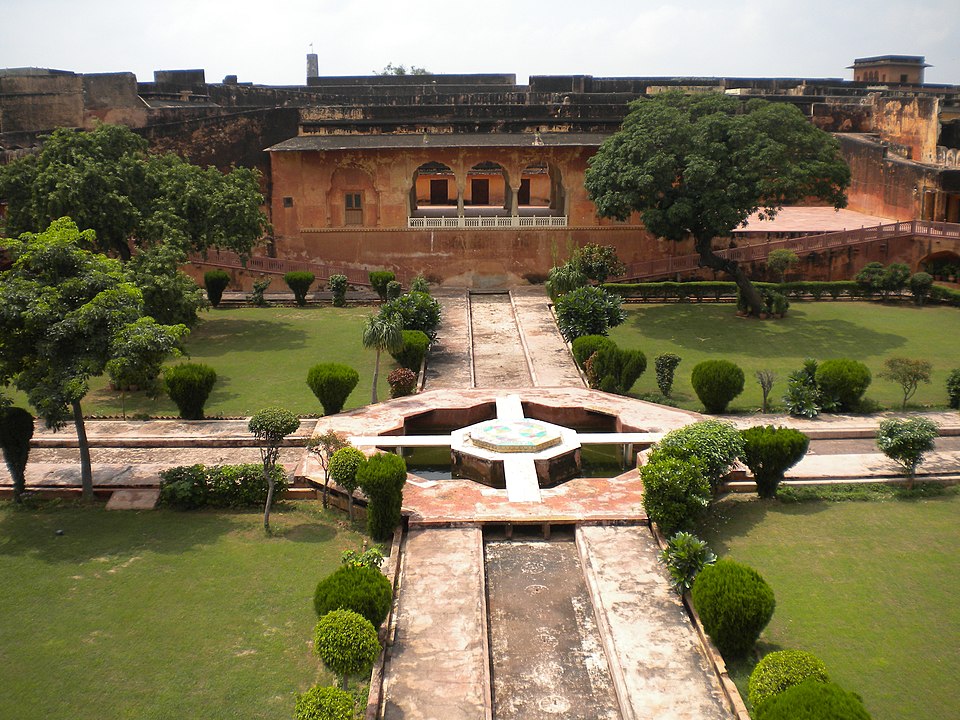 Called as the fort of Victory, Jaigarh Fort is another from awesome places to see in Jaipur. It is famous for its world's largest cannon on wheels and for significant structure of the medieval period – Diva Burj that has been maintained very well over the year. Don't miss to see the watch tower that offers a scintillating view over the plains.
Jal Mahal – Palace beneath Water
Adding extra beauty to Lake Man Sagar, Jal Mahal is a must to see attraction during your Jaipur trip. It is one of the best places to see where 5-storey palace has 4 storeys beneath the surface of water – offering a unique underwater viewing experience. Not to mention the architecture – presenting the fusion of Mughal and Rajputana Style. Water is very clear; while the scenic view of the surrounding Aravalis make the palace look stunning – mainly in night.
Nahargarh Fort – High Up on the Aravali Hills
Situated high up on the Aravali Hills, it is famous for its enchanting sunset views overlooking the entire Jaipur. The beautiful fort is also a one stop picnic spot. Nahargarh Fort is famous for offering you amazing view of Jaipur. It looks amazing when beautifully lit at night.
City Palace – Presenting the Real Architectural Style of Rajputana, Mughal and Europe
Another must see attraction to explore during your honeymoon or any kind of other holidays in Jaipur, City Palace is known for serene combination of rich Rajasthani and Mughal Architecture. Your will see intricately designed peacock gates that are one of its kind and the palace has vast courtyards, gardens and museums along with an art gallery and fascinating display of royal customers and old weapons to keep you busy for more hours.
Rambagh Palace – Now the Heritage Hotel
Being the residence of the Maharajas, Rambagh Palace is a heritage hotel – serving as one of the Best hotels in the world. It was made as a garden house for the nurse of Raja Ram Singh that was later converted into hunting lodge and then into a principle residence of Maharaja Sawai Man Singh II. Later it was converted into 5-star hotel by the famous Taj Group.
Galtaji Temple
It is the home of monkeys and one of the buzzing tourist places in Jaipur. Galtaji Temple is also called as the monkey temple that is famous for its rather complex structure. You will see three sacred pools of water; while it is surrounded by two granite cliffs. You will see monkeys bathing in the pools.
Govind Dev Ji Temple – One of the Seven Temples of Bihari Ji of Vrindavan
The beautiful temple is within the City Palace complex – dedicated to Lord Krishna and counted as the most beautiful one among the 7 temples of Thakur of Vrindavan – Sri Radhavallabh Ji, Shri Bankey Bihari Ji, Shri Govind Dev Ji Temple and others. It is said that Maharaja Sawai Jai Singh II brought the Murti from Vrindavan to this temple.
Sisodia Rani Garden
Built 10 km from Jaipur in 1728, Sisodia Rani Garden is considered as a symbol of eternal love between Maharaja Sawai Jai Singh and Rani Sisodia Jai Singh. This beautiful garden has been a gateway for the queens of Jaipur. The beautiful temple is themed on the stories of love between Lord Krishna and Radha.
Central Park, Birla Temple, Johari Bazaar, Bapu Bazaar, Abhaneri Step Well, Rajmandir Cinema, Chokhi Dhani (The Ethnic Village Resort), Albert Hall, Jantar Mantar, etc are also some of the wonderful places to see during your trip to Jaipur.