If natural beauty and pleasant environment create perfect setting of tour to any place in Himachal Pradesh, it is surely Shimla – the capital city of the state of Himachal Pradesh and one of the best hill stations in the country. Called the Queen of Hill Stations, Shimla is in the Himalayan Foothills that remains the terminus of the narrow-gauge Kalka-Shimla Railway that was completed in the year of 1903. The Mall – a plain area in the hill station and a pedestrian Avenue, Lakkar Bazaar (for wooden toys and craft items), etc are some of the wonderful places to see during your holidays or honeymoon in Shimla. However, charm of the beautiful hill station is not limited to the aforementioned attractions. You will see a lot more, even something more than what you have expected. If you are planning to enjoy your honeymoon or any kind of other holidays here, you will find a lot more to stay you busy and to add extra charm in your holidays. Some of the main and famous tourist attractions in Shimla are the following.
Best Places to Visit in Shimla:
Summer Hills – An Amazing Place to Visit in the Month of July
If you are all set to explore Shimla this July, and then don't miss to explore Summer Hills – one of the best places to visit here. It is approx 5 km from the famous ridge of Shimla – carpeted by rich greenery – offering breathtaking views from the top. It is also a part of the 7 hills that are making Shimla. What will keep you enticed and spell bound is the sunrise and sunset view that is amazing during summer months.
Jakhoo Hills
It is counted as the highest peak in Shimla with height of 8000 feet high. It is a major tourist attraction in Shimla; that is counted a heaven for all the nature lovers and pilgrims who come to visit the historic 108 feet tall Hanuman Statue at the famous Jakhoo Temple. It is a short trek for adventure seekers.
Indian Institute of Advanced Studies
IIAS is a summer retreat of the Indian President. The wonderful building is a classical architectural design with a proficient fireproofing system; while you will also walk through modern Indian history.
State Museum of Shimla
It is a must see destination during your honeymoon in Shimla. It is also known as the Himachal State Museum and Library on Mount Pleasant. You will see sprawling lawns and the brilliant British Architecture that makes this place worthwhile. You will see rich culture and heritage and incredible collection of different artefacts, paintings, sculptures and handicraft items.
The Scandal Point Ridge
The Ridge, commonly known as the Scandal Point is a flat spacious platform – one of the most popular and must see places to visit in Shimla. It is a complete retreat to all the mountain lovers with all the amazing views of valley and snow-capped mountain surrounding Shimla .you will see famous Tudor Library here; while the amazing platform offers the amazing view of sunset and sunrise.
Annandale
It is also a must to see destination in Shimla that was once the home for a number of adventure sports. It is now a perfect place for all the golf lovers. Mini golf course, a helipad and incredibly beautiful sceneries of its meadows are making it an ideal place to see during your honeymoon in Shimla.
Naldehra and Shaily Peak
Naldehra is one of the best places to visit near Shimla that is known for offering the most picturesque sunrise and sunset views. You will see dense deodar trees and naturally rich flora and fauna; while the place is known for having amazing forest ranges. They are ideal to enjoy horse rising and stunning views of calmness and fresh air.
Chadwick Falls
It is one of the main tourist attractions in Shimla that falls from an altitude of 1586 meters. What draw more attention of tourists are dense forest ranges, lush deodar, pine tree surroundings and view of natural beauty. Monsoon increases the water level of the falls making the place even more beautiful with its sparkling water. It is an amazing place to add extra romance to your honeymoon trip.
Kufri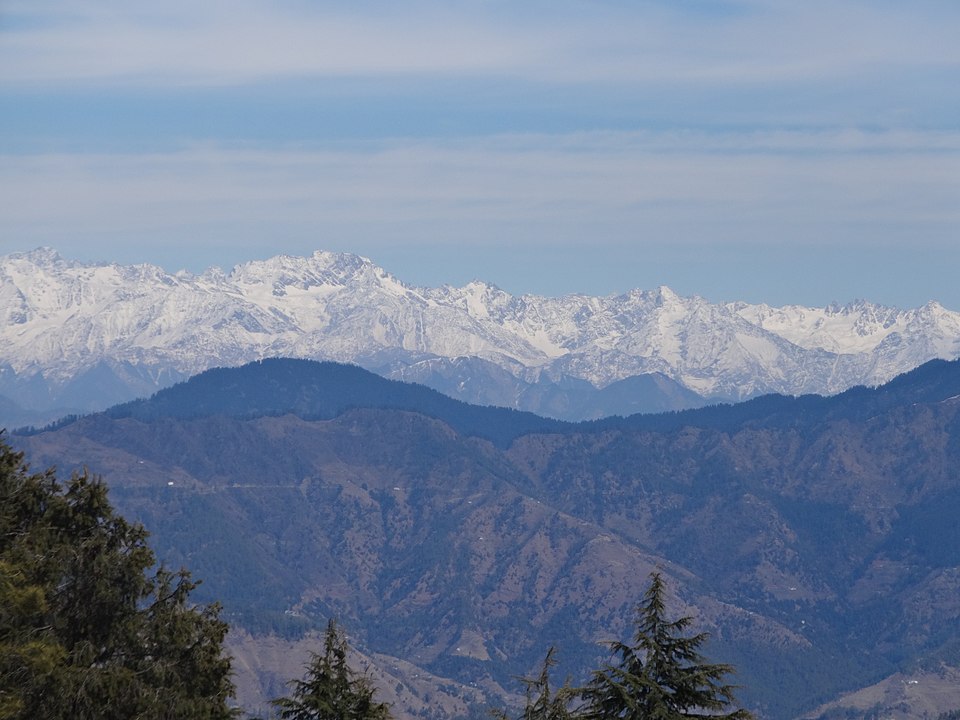 It is famous for its powdery snow curtains and view that is counted as the winter sports capital at 2622 meter above the sea level. You will see the amazing natural beauty and get a chance to enjoy the exciting winter sports skiing and ice skating.
Chail is also a wonderful place to explore during your tour to Shimla