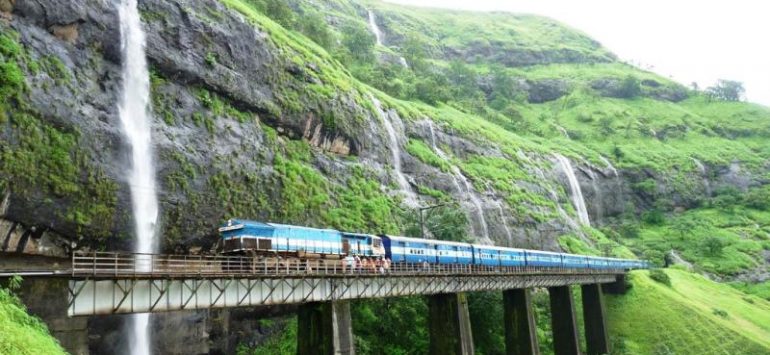 About Maharashtra
With more than 11 crore population, Maharashtra is one of the second most populous states of India. Mumbai is the capital of Maharashtra as well as the financial capital of the entire country. Known as the Also known as the wealthiest state, Maharashtra contributes around 15% of the industrial output of the country. This state is popularly known for Bollywood-one of the largest centre of film production in the world, and has several wildlife sanctuaries, few national parks, and patronizes project Tiger.
Places to visit in Maharashtra
Aurangabad includes the Ajanta Caves and Ellora Caves, which are UNESCO World Heritage Sites. Daulatabad Fort, Bibi ka Maqbara, Jama Masjid, Panchakki, and the 52 gates are the important tourist attractions in the city. Ajanta Caves are excavated in the horse-shoe shaped bend of rock surface nearly 76 m in height overlooking the Waghur River. These caves were built using hammer and chisel only.
The central attraction at Ellora Caves is a Kailas Temple (Cave16). It includes a gateway, exhibition area, square, hall, sanctorum and tower, which bear testimony to the excellence of Dravidian art. Ganpatipule has one of the most spectacular beaches along the Konkan Coast in Maharashtra while Lonavala has several tourist places in the form of caves, lakes, forts and waterfalls.
Mahabaleshwar attracts hordes of tourists for its lovely views, beautiful landscapes and pleasant temperatures, Gateway of India, Chhatrapati Shivaji Terminus (Victoria Terminus), Elephanta Caves, Haji Ali Darga, Siddivinayaka Temple, Juhu Beach, Marine Drive, Chowpatty, Film City, and Mount Mary Church are some of the popular places to visit in Mumbai city. Matheran is famous for its 38 viewpoints, which provide panoramic view of the peaks of Western Ghats, and large number of devotees of all faiths flocks to the temple of Shirdi Sai Baba throughout the year.
Nightlife in Maharashtra
Although the pubs are not located in every lane of the city, they are numerous and they play high octane music where people shake their bodies and chill out. Music and drink flow providing energy to the party goers who can also sweat the additional calories by dancing. Long drive along the Mumbai coastline is also an amazing option for the people.  It is ranked as the best city in India with a wonderful night life.
Best Maharashtra food not to be ignored
Pohay or Pohe a most popular Maharashtrian snack, Pitla Bhakri a rural food of Maharashtra, Wada-Pav also spelled Vada-Pav is the preferred noon-time snack for the masses and is sometimes had even for the main meal, Misal Pav, Sabudana Khichdi, Bharli Vangi, Aamti, Rassa, Puran Poli, Shrikhand etc. are some of the most popular Maharashtrian foods, snacks, and sweet dishes which you never want to miss out.
Getting around Maharashtra
Good motor able roads with service stations and motels connect the major cities and towns to Mumbai, Pune, Nasik, Kolhapur, Nagpur and Aurangabad. Traffic is fairly heavy but disciplined. State roadways buses and private operators run every kind of bus from luxury coaches to ramshackle rattletraps.
Hotels in Maharashtra
The modern Maharashtra is a fine blend of native tradition and refined western education. Hotels in Maharashtra are usually fully booked during peak seasons. You can search hotels for Major cities in Maharashtra such as best rated hotels in Aurangabad, Nashik, Pune, Shirdi, Mumbai, Mahabaleshwar etc.
Best time to visit Maharashtra 
Though, you can plan your trip to Maharashtra all the year long, but the best time to be at this place is from October to March. If you want to enjoy hill stations like Lonavala, Mahabaleshwar, Chikhaldar etc. best time will be July and August.