Jyotirlingas in India hold a great significance in Indian culture. Let us dive a little deeper into the brief information about these jyotirlingas.
Precisely there are exactly 12 jyotirlingas all across India and devotees from all around India pay a visit to these pilgrims in order to seek blessings from Lord Shiva who exists in various forms in these Jyotirlingas. In the presence of divine energies, these sanctums provide a feeling of calmness.
Jyotirlingas means Column of Light and these shrines are believed to be the sacred spots where Lord Shiva himself visited.
The legend behind these Jyotirlingas:
When Lord Brahma and Lord Vishnu were debating who was the ultimate deity, Lord Shiva came as a pillar of light and instructed each of them to discover the ends. Neither could anyone. It is claimed that the jyotirlingas are placed were these pillars of light fell.
List of 12  maha Jyotirlingas In India:
| | | |
| --- | --- | --- |
| 12 Jyotirlingas | Location | State |
| Somnath | Veraval | Gujarat |
| Mallikarjuna | Srisailam | Andhra Pradesh |
| Mahakaleshwar | Ujjain | Madhya Pradesh |
| Omkareshwara | Khandwa | Madhya Pradesh |
| Kedarnath | Kedarnath | Uttarakhand |
| Bhimashankar | Pune | Maharashtra |
| Vishweshwara | Varanasi | Uttar Pradesh |
| Trayambakeshwar | Trimbak | Maharashtra |
| Nageshwara | Jamnagar | Gujarat |
| Baidyanath | Deoghar | Jharkhand |
| Rameshwaram | Rameshwaram | Tamil Nadu |
| Grishneshwar | Aurangabad | Maharashtra |
1. Somnath in Gir, Gujarat:
It is regarded as the first of the jyotirlingas — the first location where Lord Shiva showed himself. The temple's fascinating architecture is largely inspired by the Chalukya style with an extremely beautiful altar to Lord Shiva. It is India's most popular pilgrimage site.
2. Nageshwar in Darukavana Gujarat:
It is situated along the coast of Saurashtra, Gujarat. The temple of Nagnath, which is flanked by Gomai Dwarka and Bet Dwarka on either side, attracts a large number of pilgrims and visitors who are drawn in by the captivating attraction of the temple construction and setting. The shrine is a symbol of protection from all forms of venom and poison and is thought to be one of the finest and most powerful jyotirlingas in India.
3. Bhimashankar in Pune, Maharashtra: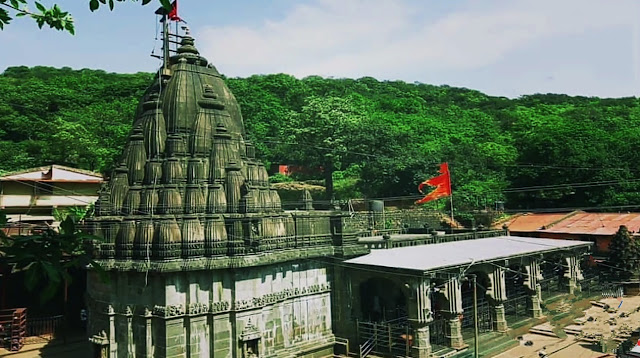 The jyotirlinga, which is surrounded by lush flora on all sides, is said to have been built by Bheema, Kumbhakarna's son. Surprisingly, it is also located on the banks of the River Bhima. During MahaShivratri, the site transforms into a carnival-like refuge for devotees from all around the state. Easily one of India's most well-known jyotirlingas.
4. Trimbakeshwar in Nashik, Maharashtra:
Trimbakeshwar Jyotirlinga, situated near the Brahmagiri hill, is also the source of the famed Godavari River also referred to as the Dakshin Ganga and the Gautami Ganga. Surprisingly, unlike other Jyotirlingas, the one at Trimbakeshwar is structured differently, with three pillars representing the three supreme forces, Brahma, Vishnu, and Maheshwar.
5. Grishneshwar in Aurangabad, Maharashtra:
The jyotirlinga is thought to have been constructed by Ahilyabai Holkar and is situated close to the Ajanta and Ellora caves. The temple complex is highly spectacular, with wonderful carvings, sculptures, and other features. It is equally stunning, and the temple building will captivate you.
6. Vaidyanath in Deoghar, Jharkhand:
The legend of this jyotirlinga goes as follows: Ravana, an ardent follower of Lord Shiva, pleaded for years to welcome him to Lanka. Ravana was also harmed during this time. As a result, when Lord Shiva went to see his devotee, Ravana was not in the greatest of health. Lord Shiva took it upon himself to heal Ravana, and as a result, he was given the name Vaidyanath. Every year, a large number of pilgrims visit the temple, particularly during the Maha Shivratri and Shravana months.
7. Mahakaleshwar in Ujjain, Madhya Pradesh:
Located in Ujjain's Mahakal forest, it is said to have been established by a five-year-old kid named Srikar. The temple is located on the banks of the Kshipra River, and the Mahakaleshwar Jyotirlinga is one of the country's seven Mukti stalas.
8. Omkareshwar in Khandwa, Madhya Pradesh:
The Lord of the Om Sound is the significance of this temple. The temple is well-known for its mythical importance. It is thought that there was a fight between the Devas and the Danavas. As the Devas appealed to Lord Shiva, Lord Shiva chose their side and came as Omkareshwar to aid them in their victory against the evils.
9. Kashi Vishwanath in Varanasi, Uttar Pradesh:
It is thought to have been constructed as a result of a dispute between Lord Brahma and Lord Vishnu. The legend simply states that Lord Vishnu and Lord Shiva would be worshipped equally, while Lord Brahma would be rejected for lying. The shrine is dedicated to Lord Shiva and Lord Vishnu.
Another popular destination where A bath in the holy water of Gangotri and Yamunotri from the reservoir within the Kedarnath temple is said to wash away all your concerns and anxieties.
11. Rameshwaram in Rameshwaram Island, Tamil Nadu:
Rameshwaram Jyotirlinga is also known as the Kashi of the South. In addition to touring the Rameshwaram Jyotirlinga, worshippers frequently visit Dhanuskhodi seashore to seek Lord Rama's blessings.
12. Mallikarjuna in Srisailam, Andhra Pradesh:
The Mallikarjuna Jyotirlinga temple, the twelfth of India's 12 jyotirlingas, is positioned on the top of the Srisaila Mountain. The River Krishna can be seen from the shrine, which has beautiful architecture and sculptures. Andhra Pradesh's Jyotirlinga is also recognised as one of Sati's 52 shakti peethas.
A tour of these religious destinations would be enchanting and rewarding that you can indulge in.