valleys, narrow-ways and mountain edges along with some ancient architectural wonders – all speak the rich beauty of Himachal Pradesh – the northern state of India bordered by Tibet, Jammu and Kashmir, Uttarakhand, Punjab and Haryana. The beautiful land of lush greenery and snow-capped mountain ranges is synonymous with scenic beauty, serene landscape and adventure sports. There is no denying the fact that Himachal means "the land of snow".  
The beautiful state in the western Himalaya has several hill stations that are the most appropriate destination to find respite from the scorching summer heat. Planning a wonderful honeymoon tour or any kind of other holiday in Himachal Pradesh is certainly a good way of having more fun and pleasure in life. If you are planning to explore the most beautiful state, it is better to know about the top 10 attractions in the state that will surely keep you enticed and spell bound for the time to come. Some of the most beautiful and amazing attractions are the following:
Best Tourist Places To Visit In Himachal Pradesh
Shimla
One of the most beautiful hill stations and capital city of the state, Shimla is the right mix of Indian glory with British sophistication. It is known for its fresh climate and stunning landscapes. You will get a number of options to celebrate your holidays here like Mall Road for shopping and other fun activities, trekking to Jakhu Hill and visiting Lord Hanuman's Temple, visiting the Viceregal Lodge to appreciate the British Elegance and fun at the Ridge. It is also known for heavy snowfall in the winter months.
Kullu Manali
Being one of the most beautiful and amazing places and hill stations to see in Himachal Pradesh, Kully & Manali are ideal for honeymooners and those who are looking out for fresh air and green mountains amidst the snow-covered ranges. From November to January, these places witness heavy snowfall all around. May to July is known for pleasant weather conditions. You will indulge in adventure sports at Solang Valley, visiting Manali Bird Sanctuary and going trekking, camping, angling and river rafting in Kullu. Old Temples are also ideal to see here. Reaching here is also easy as Chandigarh is the main nearest city.
Dharamshala
If you are planning to stay at the most serene and tranquil place on earth, then don't forget to plan a trip to Dharamshala – one of the best places to visit in Himachal Pradesh. It is famous for its climate and for its Indo Tibetan community. It is only 85 km from Pathankot; while there is better connectivity to Delhi and Dharamshala. There are various activities to keep you busy like boat riding across Dal Lake and exploring the Kangra Fort. Pay home to Bhagsunath Temple that is dedicated to Lord Shiva and simultaneously enjoy the cascading Bhagsu falls. Visiting various monasteries, the Kangra Art Museum, the Dalai Lama Temple Complex and see the magnificent tea plantation on the foothills of Kangra valley are other activities to do here.
Khajjiar
Adding an extra spark of natural beauty and popularity in Chamba District, the gorgeous valley is one of the best places to see in Himachal Pradesh. A refreshing environment will persuade you to plan a trip again. Dharamshala is the nearest airport to reach here. There are various things to do and see here like visiting the Khajjiar Lake and Ground via the Bakrota Hills from Dalhousie, paying tribute to the Khajji Nag Temple, enjoying the serenity of local villages known for their apple orchards and relishing the mercerizing views of Mount Kailash.
Kasauli
A perfect gateway from the hustle and bustle of city life, Kasauli is one of the most serene places to visit in Himachal Pradesh – mainly in the month of June and July. It is almost on the outskirts of Punjab and Haryana that is well connected via roads. Some of the wonderful things to do in Kasauli are visiting the Anglican Church, enjoying a great stroll or a trek on the lower mall which leads to the Monkey point which is in the shape of a Lord Hanuman's foot and sunrise view and sunset at the point where you can see the most beautiful sky.
A must watch is the sunrise and the sunset point where you can witness the most beautiful sky.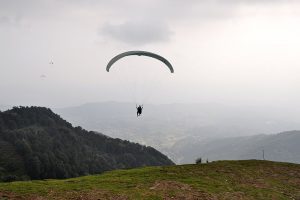 Bir Billing
Another wonderful place to see is a paradise for adventure seekers that are counted as Mecca for adventure sports enthusiasts. The small village is located on the western side of Himachal Pradesh and is blessed with some refreshing climates. There are various wonderful things to do here like
Visiting the gorgeous Buddhism monasteries in Bhattu, Coggan and Chauntra Bhattu colony located in the centre of the forest.
Visiting the Palampur Tea Cooperative where you can attend a free tour to see the tea making process
Experiencing some adrenaline rush as you paraglide in the beautiful Himalayan valleys and camp amazing weather and safe surroundings
There is a lot more to keep you busy and enticed in Bir Billing in Himachal Pradesh.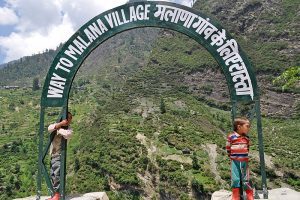 Malana
For those who are seeking digital detox, Malana is a paradise for them to make their dream come true. The beautiful destination is a paradise to explore in the month of August month at Kullar Valley. It provides spellbinding views of the Deo Tiba and Chandrakhani Crests. It is a paradise for trekkers, solo travellers and those who want to stay away from the real world.
You will enjoy a number of wonderful activities here like enjoying some stimulating weather in the gorgeous village that is called the Little Greece of India, seeing panoramic scenes of the snow-clad Himalayas from Chanderkhani pass and capturing the mesmerizing beauty of Kheer Ganga Valley. Don't forget to trek through spectacular forests and across Alpine Pastures with an amazing view.
Dalhousie
A paradise for adventure and nature tour lovers, Dalhousie is the most amazing and wonderful place to see in Himachal Pradesh that is famous for its serene and tranquil environment and natural beauty at its best. You will experience the beauty of nature in the valley of Khajjar which is also known as the Switzerland of India. Don't forget to enjoy a gentle walk or a trek in the beautiful terrain in Dainkund Walk, Ganji Pahadi Walk and Bakrota Walk. St John's Church, the oldest church in the town is also a must-see destination here.
Spiti, Kaza and Tabo
Spiti Valley is also a wonderful attraction to see in Himachal Pradesh. It is one of the attractive hidden gems in North India that is home to various divine places of Buddhist Destinations and some of the most widespread tourist destinations. You will see Millennium Monastery, Gue Mummy and Dhankar Monastery along with rock carving at Tabo. Angla and Phela are wonderful plains on the hills North of Tabo. There is a lot more to keep you busy there.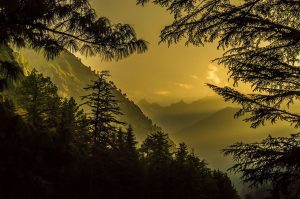 Kasol
Called Little Israel in Himachal Pradesh of India, the beautiful hill station is based in the Parvati Valley – the most beautiful hill station. It is also home to Manikaran.